Busted! Don't Believe These Myths About Can Seamers!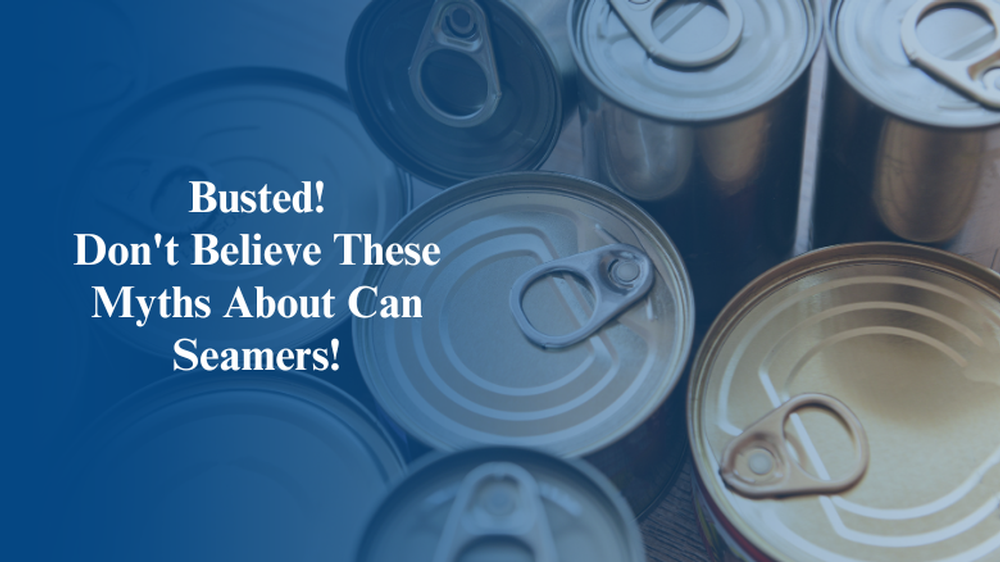 Can seamers have been designed to meet the packaging needs of beverage, food and other industries for quite some time. However, to satisfy customized demands and keep up with the changing technology, canning companies have had to up their game while manufacturing these powerful machines.
Although can seamers are regularly used and recognized by many industries, there are still many myths associated with its components, functioning, and upkeep. Put your faith into these misbeliefs can lead to a canning defect and may even harm your product.
To help you steer clear of these misconceptions, Dixie Canner Co. has debunked two of the most widely believed myths about can seamers.
Myth 1: All cans and lids are the same.
A can or lid of the same size does not necessarily mean they are the same. Manufacturers usually require different tooling hermetically seam containers and achieve the correct seam specifications, and they, therefore, make each can or lid slightly different.
We often come across customers that call and say their seamer is broken, or their seamer is not made well. As we dig deeper into their issue, we find out that nine out of ten times, it is because they purchased a new can, lid or both from another supplier. The reaction is always the same; they assume it would be the same size! They might both be a 202 x 413 can and lid, and may use identical seam roll profiles but subtle differences in the 'lid ore can' will require different Chucks and Base Plates (tooling) to achieve the can manufacturers' seam specifications.
There is also the issue of using one can manufacturer's lid paired with another's can. This can be done if you can pressure test the seam to make sure you have a hermetic seam. However, the problem with this is that there are no can manufacturer's seam specifications for this application. If an issue arises, for instance, if there are bad seams, product loss or consumer illness, the company responsible for packaging the product holds full responsibility.
Myth 2: Can seamers do not require maintenance.
Can seamers are machinery that have metal to metal contact parts that get worn out over the years. Proper maintenance and periodic adjustments are required to maintain seaming integrity.
Our can seamers are relatively inexpensive and extremely simple to use and maintain, as far as packaging machinery is concerned. With that said, a mechanical acumen and basic quality control program must be instituted to ensure packaging integrity.
We often find that our customers do not read the operator's manual nor take the time to watch videos to educate themselves. To learn how to set up and adjust a 25D double seamer, watch this seven-and-a-half-minute video by clicking here.
Without basic knowledge of the can seamer and can packaging, you are setting yourself up for disaster. The lack of attention and adherence to a quality control program can also lead to leaky seams.
The benefits of cans are well known and undisputed. Take time to learn about the basics of can packaging by clicking here and here.
If you're looking for a company that manufactures can seamers from the USA, reach out Dixie Canner Co. We have been in the can packaging industry since 1895, and have picked up little knowledge along the way that we are more than happy to share with you!
We provide recommendations for cleaning, maintenance as well as check seam specifications to make sure you are properly seaming your cans. We are also available to answer your questions, provide additional information and even offer video conferences to help you understand and maintain your seamer.
To know about the can seamers that we provide, please click here. If you have any questions about Dixie Canner Co., we'd love to hear from you. Please contact us here.