More Pictures from Our Dual Retort Start up in New Bedford, MA at Island Creek Oysters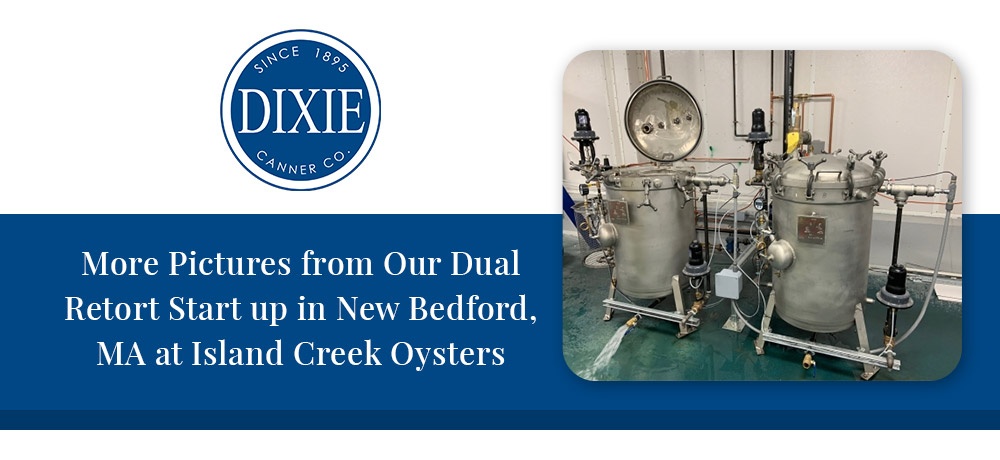 Dixie Canner friends and family,
We wanted to share a few more photos from our retort installation from last week in New Bedford, MA. Island Creek Oysters was extremely pleased!
Dixie Canner Company was at the brand-new canning facility Island Creek Oysters, LLC has opened in New Bedford, MA. We were busy last week commissioning Island Creek Oysters' new Dixie Dual RDSW-3SS Retort and Auto Control System. This is the highest auto control production system Dixie Canner offers. This thermal processing system will allow Island creek to offer high end seafood delicacies – clams, scallops oysters, etc. in a shelf-stable packages!
Look for more information on Dixie RDSW-3 SS Retorts and Auto Control and Dual Auto Control Operating Systems at https://www.dixiecanner.com/pages/equipment/retorts/rdsw-3-auto-retort-control-system
Recent Start-ups:
U. of Arkansas Food Science – Fayetteville, AR
Island Creek Oysters – New Bedford, MA
Scheduled Start-ups:
VA Tech – Seafood Research – Hampton, VA
Prospectors LLC – Kentwood, MI
Miss State Seafood Research – Gulfport, MS
We are asked by many customers for contact information for a Process Authority. We were recently working on a Dual Retort Commissioning in New Bedford, MA. I had the opportunity to work with the Process Authority for Island Creek Oysters, Dan Wu, President of GLC, LLC, a USDA Process Authority & Product Development company. If you are in need of a Process Authority, we highly recommend Dan!

Two RDSW-3SS Dixie Retorts may be Operated Independently
Or Simultaneously for Maximum Production.
Package 5 Dual
Retort Control Panel.

Internal view Package 5
Dual Retort Control Panel.
Lift System for Full Retort Baskets

Full Retort Basket
24 Layers, 22 Cans/Layer, 528 Cans