Need a Little Help Finding the Perfect Can for your Application?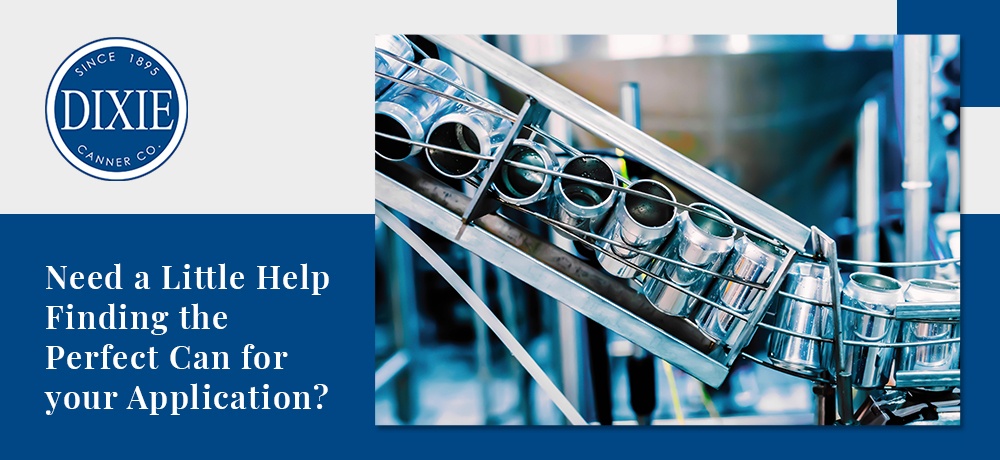 Dixie Canner specializes in the manufacturing of can seamers, food processing equipment and retorts for low-volume, Commercial Kitchen/Community Cannery, Pilot Plant, R&D and Specialty Canning applications. We see a lot of different types of cans and lids used for all kinds of products. There are multiple options in today's can market, beyond the typical aluminum, steel and tin food and beverage cans that everyone is familiar with. There are many types of Plastic (PET) containers and Composite (Paperboard) containers available. The one common theme is the Container is round and the end (lid) is metal.
Large can makers usually have a global footprint, many facilities, and a wide variety of can types and industries served. Most of these large companies are not set up to serve a small scale customer. Instead, distributors purchase from the large companies and provide cans, lids, labeling and other services to smaller quantity customers. We have compiled some of our most trusted can manufacturers and supplier. While this is not an exhaustive list, it is a great starting point as well as resource for value-added can supplier services.
ALUMINUM BERVERAGE CANS
Saxco International
San Diego, CA
619-517-9324
saxco.com
Visionary Labels & Packaging, LLC
Anaheim, CA
562-313-1870
visionarylabels.com
Ball Metal Beverage Container
Broomfield, CO
303-460-5490
ball.com
CanSource div. of Mobile Canning Systems
Longmont, CO
303-709-1878
cansource.com
Augusta Label and Packaging
Burr Ridge, IL 60527
630-537-1961
augustalabel.com
Rexam Beverage Can Americas
Chicago, IL
773-399-3000
rexam.com
Crown Cork & Seal
Massillon, OH
330-833-1011
crowncork.com
Wine and Beer Supply
Ashland, VA
716-804-4519
wineandbeersupply.com
12 and 16 oz. beverage containers
COMPOSITE (PAPERBOARD) CANS
Sonoco-Phoenix, Inc.
North Canton, OH
330-966-5900
sonoco.com
T & S Products
Arlington, TX
817-633-4600
tandsproducts.com
Canfab Packaging, Inc.
Montreal, QC Canada
514-935-5265
canfabpkg.com
Sonoco Products Company
Hartsville, SC
843-383-7000
sonoco.com
ALUMINUM, STEEL & TIN CANS
Container Supply Company
Garden Grove, CA
714-892-8321
containersupplycompany.com
Silgan Containers Corporation
Woodland Hills, CA
818-348-3700
silgancontainers.com
Independent Can Company
Belcamp, MD
410-272-0090
independentcan.com
Allstate Can Corp
Parsippany, NJ
973-560-9030
allstatecan.com
Can Corp. of America
Blandon, PA
610-926-3044
cancorpam.com
Wells Can Company Ltd.
Burnaby, BC Canada
604-420-0959
wellscan.ca
Berlin Packaging
Chicago, IL
800-363.9822
berlinpackaging.com/open-top-cans
berlinpackaging.com/aluminum-beverage-cans
PLASTIC (PET) CANS
King Plastics, Inc.
Orange, CA
714-997-7540
kingplastics.com/seal-top.html
Plastic containers, Aluminum ends, Over-caps
Gilpin and Company, Inc.
Birmingham, AL
205-981-1202
gilpinezo.com
Plastic containers, Aluminum ends, Over-caps
Invento Americas, LLC
Colorado Springs, CO
714-271-8727
866-322-5435
inventoamericas.com
Clear Plastic Beverage Cans
Silgan Plastics Food Containers
Chesterfield, MO
314-542-9223
silganplastics.com
Plastic containers (omni-bowls - retortable)
When dealing with food and beverage cans be sure to know what type of products you will be canning as well as if thermal processing (Retort Processing) is required. Know the acid/Ph levels to make sure you have proper can lining. Most can suppliers will be able to provide some technical help as well as Can Manufacturer's Seam Specifications.
Keep in mind that just because a can may have same size nomenclature, (202 x 412) for example, cans and lids may vary somewhat from can manufacturer to can manufacturer. It is always imperative to make sure your can supplier is providing consistently sourced cans and lids, and makes you aware of supplier changes so you can see if cans and lids fit on current tooling your can seamer is equipped with.
Dixie Canner manufactures tooling for your can seamers in Athens, GA. All orders are made and inspected by skilled machinist. We require Sample cans and loose lids for manufacturing of Change Parts (tooling)
All Dixie Can Seamers are capable of closing a Range of Can Sizes/Types. All Dixie Can Seamers come Equipped to CLOSE ONE SIZE Can. Change Parts (Tooling) for different size/type cans and lids within the Range of your can seamer can be purchased at any time. Our production Schedule for Change Parts is usually within three to five days of receipt of sample cans and loose lids and completed order. Please contact one of our Can Packaging Experts for more details!
Contact Us and we would be pleased to assist with your can and seamer needs
Click here to visit our eCommerce store
Click here for information on upcoming IFT and PackExpo trade shows