Find a Traditional B&B with a Modern Twist at Turkey Hill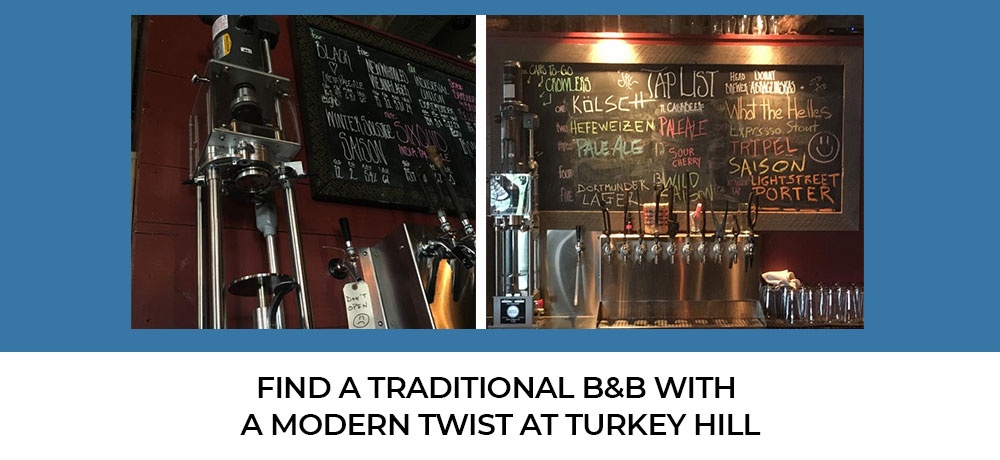 Just off I-80 in Bloomsburg, PA, you'll find a local treasure. Housed in a 19th century farmhouse, the Inn at Turkey Hill is a traditional bed and breakfast run by the same family for 75 years and is well known for hospitality, fine dining, and most recently, beer.
When current owner Andrew Pruden's grandfather bought the old farm in the early 1900's, he dreamed of owning an Inn complete with an on-site brewery. He passed on before either was realized, but his family honored his dream by opening first the Inn and Farmhouse Restaurant, and later the Turkey Hill Brewing Company.
"Beer has been around for a long time," explains the brewery's General Manger Andrew Nebel. "Having a brewery on the property is a perfect fit for our guests seeking an authentic experience."
The brewery itself is housed in a replica of the barn built in 1839, complete with original flooring. Step inside, and you will find Brewmaster Donny Abraczinskas hard at work brewing craft beers in the traditional style, with fun names like Barn Dance Blonde Ale and Wholly Trinity Triple. However the equipment behind the bar is far from antique.
A few years ago, Turkey Hill was looking for a safer, more affordable way to transport their product. This search led them to Dixie Canner. Today, our 25D-900 Direct Drive Double Seamerfills 32oz Crowler™ cans for happy customers from near and far.
"It's one of the best things we've purchased," Andrew says. "Growlers have limitations, like initial costs, environmental concerns, and even changing laws regarding their use. Crowlers™ solve these issues."
Turkey Hill certainly sees the benefits Crowlers™ bring to their customers, but also what they're doing for the brewery's future. They've doubled capacity in the last year, expanding their reach to a 50-mile radius and are serving up brews in over 20 local bars.
Yet even as they expand, the team at Turkey Hill remains true to their mission: "We've found that people visit for the tradition, and return for the modern touches like the brewery," explains Andrew. "Dixie's 25D-900 is bringing our time-honored property into the future."
Dixie Canner is committed to bringing the latest innovations and information in the canning industry to our valued clients like Turkey Hill Brewing Company.
Which is why we're excited to share our new 25D-900 Direct Drive Double Seamer adjustment and maintenance video.
Set Up & Adjustment for Model 25D Direct Drive Seamer
Think of it as the Bartender's Guide to Can Seaming Operations, or in simpler terms, How Do I Actually Run This Thing? The video explains the basics of the Model 25D, including how to maintain, adjust and trouble shoot as needed. This way, you and your staff can operate your Model25 like you were born for it. Be sure to check it out here.
I want to learn more about Crowler™ technology.
---
Portability Just Got Easier,
Now Available 3 Pack Crowler Can Carriers!
Check out our brand new videos on our YouTube channel!
We have one general information video and two training videos: "Five Steps to Installing the Change Parts on Your Dixie Seamer" and "Tools and Lubes for Your Double Drive Seamer."
---
---
Check Us Out On Our Social Media Pages!!!
Dixie Canner Co. | sales@dixiecanner.com | (706) 549-1914
326 Commerce Blvd
Athens, GA 30606
---