Kinslahger Brewing Company Finds Kinship with Dixie Canner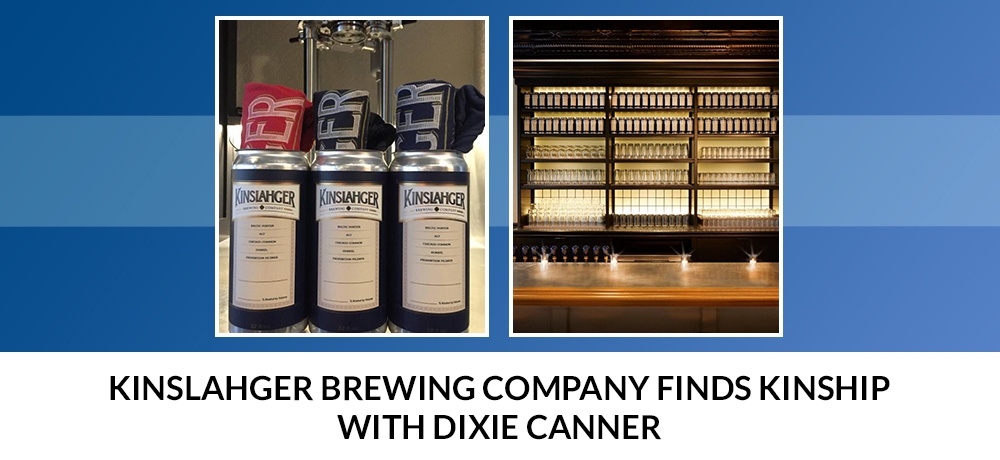 A few years ago, three friends outside of Chicago decided to take their love of beer and a strong friendship to the next level, and Kinslahger Brewing Company was born. At first glance you may think the name Kinslahger is a typo. In reality, it's actually a mash up of two words central to the brewery's story - kinship, the connection with others, and lager, their specialty. This emphasis on a connection to others, along with pride in their Chicago roots, makes Kinslahger Brewing Company who they are. It's also what led them to Dixie Canner.
When planning their taproom in Oakville, Illinois, they decided to offer their distinctive lagers in Crowler™ cans and were in search of a seamer to do the job. In 2015, they stopped at the Dixie Canner booth at the Craft Brewer's Conference and the rest is history. "Dixie's long history as a canning company, over 100 years, was appealing to us," explains Keith Huizinga, co-owner. He and his partners felt that if Dixie canned food for more than a century, there was a strong reputation for quality they could count on.
And quality is paramount at Kinslahger. The brewery focuses on incorporating new ingredients into classic lager fermentation, resulting in brews like their popular Chicago Common. A take on a Cali common, this unique lager gets its name from the Chicago common bricks used to rebuild the Windy City after the Great Fire of 1871. Today, the bricks are a piece of history, and a hot commodity - not unlike the beer itself.
At their taproom Dixie Canner's 25D-900 Direct Drive Double Seamer gleams on the back bar, ready to fill Crowlers™ with Chicago Common and other favorites.
"I was initially surprised at customer reaction to the seamer," Keith points out. "It draws attention to the bar, and they ask to see it in action. Honestly, they love it."
For this reason, the seamer sells beer. And it does so in a way Kinslahger supports. They see the Crowler™ as a superior way to transport beer for their discerning customers. It's environmentally sustainable, lighter to ship, and easier for people to take on the go. In addition, it won't break like glass and has a better seam.
This last point is especially important to Keith and his partners. "The 25D-900 is a workhorse," he explains. "It continues to do its job every day, making our job easier."
A respect for both history and quality is the foundation of the relationship between Kinslahger Brewing Company and Dixie Canner. Keith agrees. "Our partnership with Dixie -- it's a natural fit."
I want to learn more about Crowler™ technology
Portability Just Got Easier,
Now Available 3 Pack Crowler Can Carriers!
Check out our brand new videos on our YouTube channel!
We have one general information video and two training videos: "Five Steps to Installing the Change Parts on Your Dixie Seamer" and "Tools and Lubes for Your Double Drive Seamer."