Best Practices: Keep Your Equipment in Prime Condition with Regular Maintenance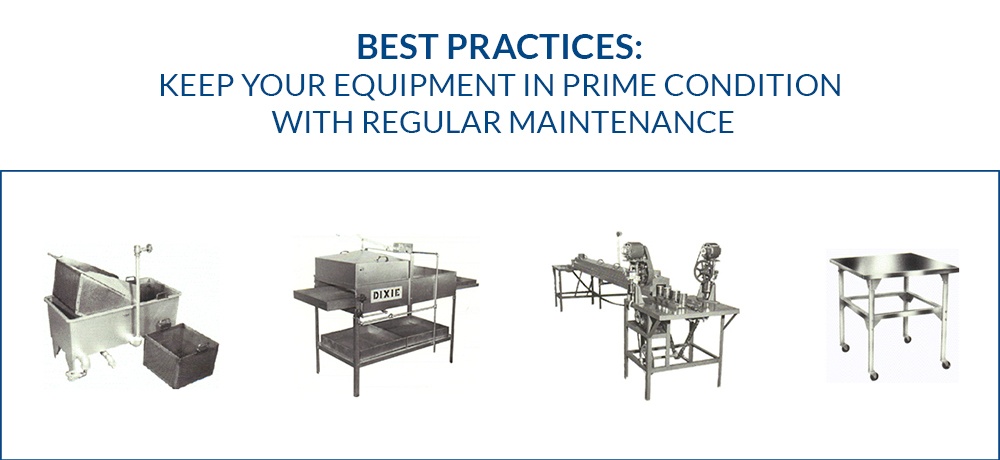 You made an investment in your Dixie equipment, so it makes sense to keep it in prime condition. Like any piece of well-built machinery, it will perform at peak levels if it's well maintained. Regular, day-to-day operation results in normal wear and tear due to natural forces like friction and pressure. However, systematic care and lubrication can minimize wear. With best practices in place, your Dixie equipment will give you great performance for the long haul.
At Dixie Canner, we have a well-earned reputation for outstanding customer service. So we've created several resources relating to equipment management. Use any and all of these to make sure you're utilizing best practices every day.
Our webpage is full of useful information you can access anytime. Instruction manuals for each of our machines are located under the Parts/Service drop-down menu. These include directions for making adjustments, labeled photographs, troubleshooting pointers, and information on change and repair parts. The Parts/Service drop-down menu also features accessories and instruments you may need to keep your equipment humming, such as:
Lubricants and vacuum pump oil
Customized change parts and tools
Double seam test and inspection instruments
Vacuum only test gauge
Spare parts kits for those components that wear (Call us for more information.)
Dixie's YouTube channel features several useful videos created to help you take care of your equipment. You can watch videos on specific equipment, changing parts (tooling), seam tests and lubrications, tools required to maintain your seamer, and more. Click this link to visit our YouTube channel.
Need some maintenance assistance? We offer typical maintenance service on all our seamers. Just ship your equipment to us, and we'll prepare a quote for you. Once the work is finished, we'll ship the machine back to you. You can find complete details in the instruction manuals.
And if you need any help at all, you can always call us, too, to get all the information you need!
We want to make sure your machinery stays in top-notch condition, so you'll be completely satisfied now and for years to come. Our videos, instruction manuals, tools and accessories, and our maintenance service are here to help you ensure your equipment operates at topmost performance levels.