Wine World's Chan Cox says Crowlers™ Have "Huge Potential"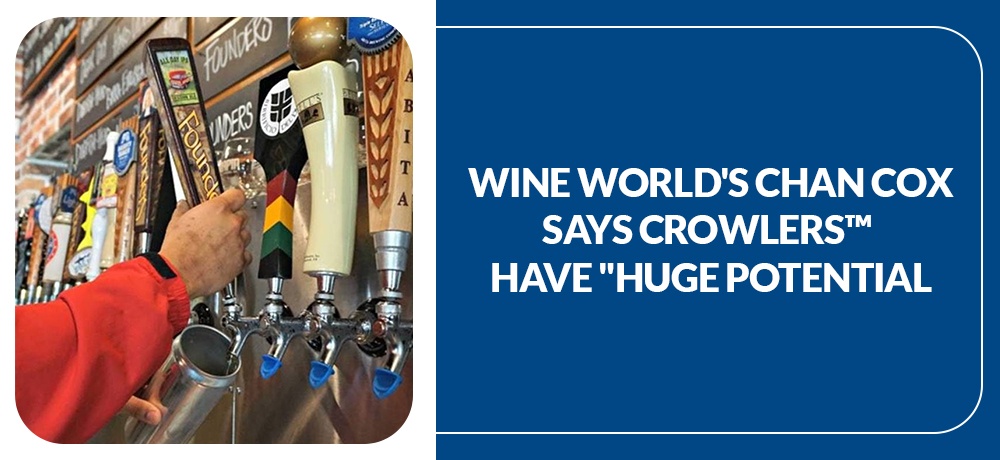 Chan Cox, founder and managing partner of Wine World, is committed to bringing the best in wines, beers, and liquors to his corner of the world: north-west Florida. In its six locations on the Florida panhandle, Wine World also offers gourmet foods, cheeses, and related gifts and accessories. Five locations provide distinctive dining and beverage service, such as The Craft Bar gastropub concept, which offers unique and carefully handcrafted beers.
Chan's passion to offer the very best to his ever-growing customer base led him to consider the Crowler™ mode of beverage vessel for Wine World's gastropub locations. "We have a real close relationship with Cigar City Brewing in Tampa." Cigar City has had great success with Crowlers™ and has great things to say about Dixie Canner and the 25D-900 Direct Drive Double Seamer. "We talked with them extensively about Crowlers™ and Dixie's seamer before we purchased our own."
He also tested the product himself. For Chan, like most people who've made their passion their life's work, his personal experiences with any product he's considering needs to be incredible. One evening, he was grilling some dinner and decided to pull out of his fridge a Crowler™ of beer that had been in there for about four weeks. When he opened the Crowler™, the craft brew it contained was as fresh and fantastic as if it'd been just drawn from the tap.
Convinced, Chan bought Dixie Canner's 25D-900 Direct Drive Double Seamer for the Destin location at Paradise Key at Kelley Plaza. It was very easy to set up and get going, he reports. And it quickly became an important part of their operations. "We bought a special table for mounting the seamer and also display shelving for showcasing the cans." To promote the Crowlers™, they set a can and table tent ad on every table in the restaurant.
Once the seamer was up and running, Chan says, "I was surprised at the great customer response at The Craft Bar. I originally expected more sales on the retail end of the business." The Craft Bar has about 30 taps. "People are ordering the most Crowlers™ there."
The Craft Bar has also used Crowlers™ for other drinks besides craft beers. They're known for precision cocktails and fantastic mixologists who constantly change and experiment with specialty drinks. Customers often drop in to partake of new, creative, and superb cocktails, such as different and inventive varieties of the Moscow Mule. "Some customers stopped by just before they headed out on their boat," Chan relays. "They had their cocktails seamed in Crowlers™ to take along with them."
Chan sees "a huge potential" with Crowlers™. Since cans are easily portable and unbreakable, they are perfect for the coastal lifestyle. Cans are more welcome than glass on the beach, and they're a much better option to take along on boating and fishing trips. Cans make more sense for other outdoor events as well, such as tailgating and outdoor parties. And with Crowlers™, folks aren't limited to what's already available in retail cans. They can stop in at The Craft Bar and select their favorite fresh craft beer or cocktail and have a Crowler™ or two filled and seamed right there.
Wine World's The Craft Bar location in Panama City Beach at Pier Park North will be getting their Dixie Canner 25D-900 Direct Drive Double Seamer set-up right away. A second location in Destin, Town Center at Grand Boulevard at Sandestin, will add Crowlers™ to their offerings in a few months. Chan plans to add The Craft Bar in downtown Pensacola - and Crowlers™ as well - in about a year. And all locations will boast a Dixie 25D-900 Direct Drive Double Seamer.
Impressed with customers' initial response to the Crowler™ concept, Chan's looking forward to beach season, when the tourists flock to the Florida coast. He's expecting Crowler™ sales to really take off then. After all, Crowlers™ and summertime fun are the perfect pairing.