Customer Spotlight: Joe Haenn - Crowling Rental Co.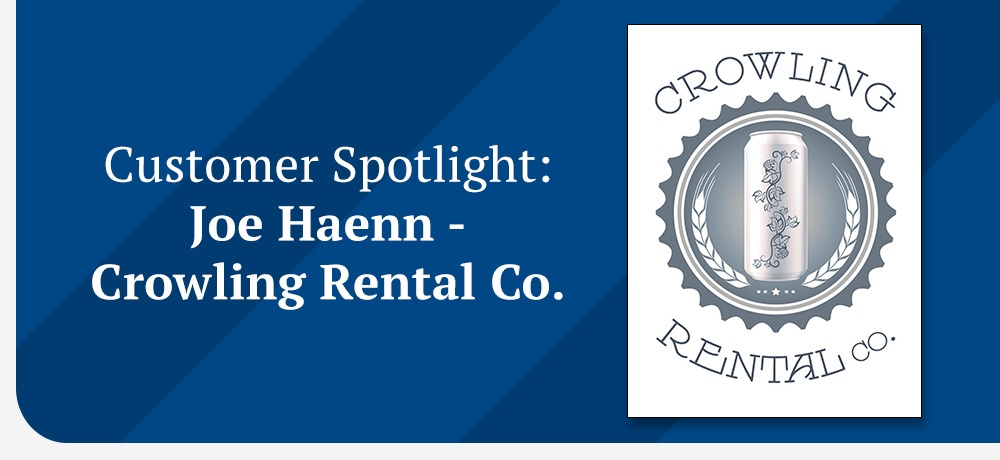 At Dixie Canner Co., we pride ourselves on providing high-quality can seamers and retorts at affordable prices. Over the last several years, our success has been driven by happy clients, who have given us referrals and written positive reviews about our services. While quality is something that runs through our veins at Dixie Canner Co., so does gratitude.
Through this post, we want to highlight a client who has assisted in building our strong reputation and portfolio by helping us with multiple referrals.
Over the years, Joe Haenn from Crowling Rental Co. has been more than just another client. He has been an invaluable asset to Dixie Canner Co.!
We usually provide Joe with a lot of Model 25D Dixie Double Can Seamers to help him support his family of breweries.
Joe Haenn started his company Crowling Rental Co. with the simple thought of helping their favorite local brewery with a growth opportunity, which was fresh beer in 32 oz cans from behind the bar. They had an extensive history in both leasing and service on a large scale and knew right away that access to growth for the little guy, was being limited by the much bigger companies.
To this day, their focus has remained the same, i.e., to help small businesses grow. To achieve this, they carry out face to face business, granting their clients access to tools for growth, cash flow, and creativity. From bar top canning to kegs, to wet barrels, to consulting, they break high costs down into manageable monthly programs and look to ensure positive cash flow and margin for their family of breweries. They see needs that are mostly universal but have a financial hurdle to them. It's easy for them to manage, and allows them to meet good people, overcome the obstacle, and repeat it all over again.
We sincerely appreciate customers such as Crowling Rental Co. as they prove that reaching out to a small business owner has its benefits as they are delighted with the end product. It also gives us immense satisfaction to state that we did an excellent job at a very reasonable and competitive price. Our focus is on ensuring that our customers are happy with the seamers they received.
Joe Haenn is one such satisfied customer who has helped our business grow based on "word of mouth." His positive comments about our products have helped us attract more customers, and in doing so, he has assisted us in growing the business.
When we asked Haenn about why he loves working with us, his face lit up as he said: "Working with people directly is so important to my wife and I. We're a family-run, small business and want to meet, shake hands and do business with good people that work hard in their craft as well as on our satisfaction as a customer of theirs. Then, you add an amazing product with the longest heritage, and that far outperforms any of the competitive equipment, and you have a wonderful combination. That's the combo we found in Dixie! We couldn't have grown into ten states in the time frame we did, without the help of the great people like those at Dixie, and the highest quality seamer they provide."
Joe isn't wrong about that! We love helping our clients achieve their goals, and to do this, we must ensure that they receive quality products that go above and beyond their expectations.
As an experienced business, at Dixie Canner Co., we prioritize customer service and high-quality work at affordable prices. We have been in the can packaging industry since 1895, and have picked up knowledge along the way that we are more than happy to share with you! We provide recommendations for cleaning, maintenance as well as seam specifications to make sure you are correctly seaming your cans. We are also available to answer your questions, provide additional information, and offer video conferences to help you understand and maintain your seamer.
The next time you're looking for a company that manufactures can seamers in the USA, get in touch with us by clicking here or visit our website.