6 Things To Know Before Packaging Your Products In Cans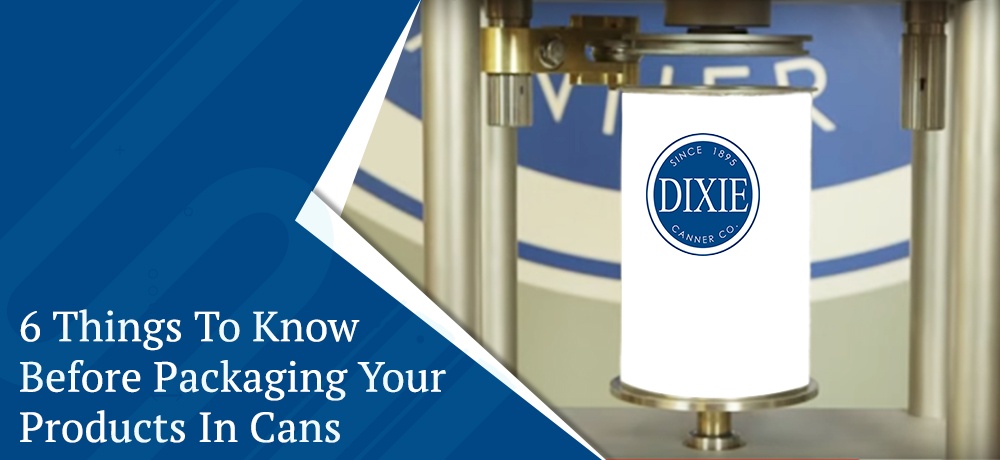 Various industries, such as food and beverage manufacturing, have witnessed a significant rise in production costs. As a more practical alternative, several brands have turned to specialty canning equipment to professionally package products and preserve their supplies.
For the method of canning to generate a higher profit, as a business, you need to upgrade to the latest technology. However, investing in new manufacturing equipment without any prior knowledge or experience is not economically feasible, and could cause a massive loss to your company's bottom line.
At Dixie Canner Company, we pride ourselves on our ability to simplify the canning process by offering maximum performance packaging and processing equipment for a variety of industries. To help you benefit from our expertise, limit the chance of errors and save you time and money, we have compiled a list of common things to know when dealing with can packaging.
1. Not understanding the concept of the double seam. The most common misconception about can packaging is that lids are crimped onto the can body. Can manufacturers design modern cans and lids to package your products in containers that use the least amount of raw material to create, while maintaining strength and functionality. A hermetic seam is created by roll forming the flange of the can body and the lid during the first seam roll operation, and the hermetic seam is completed during the second seam roll operation.
To learn more about double seam formation, the terminology and diagrams showing the process can be found here: www.dixiecanner.com/pages/equipment/seamers/seam-terminology.
2. Not knowing seam specifications. Can manufacturers provide seam specifications for their cans and lids. The seam specifications are actual measurements of the seam height, thickness, body hook, cover hook, overlap, and countersink (click here for more details). Each of these measurements is in .001". Each measurement will usually have a specific measurement (example .064") with an acceptable range of +/- .002." If all measurements are within the range of the seam specifications, the can manufacturer guarantees a hermetic seam.
3. Not aware of can seamer adjustments. Can seamers are designed to hermetically seam your cans and lids within manufacturers seam specifications. Like any other machinery that has metal to metal contact, they require proper maintenance and adjustments.
There are three main adjustments that are required:
1st Operation Seam Roll Adjustment
2nd Seam Roll Adjustment
Base Plate Pressure Adjustment
There is no timeframe as to when these adjustments need to be made. However, make sure that you properly clean and lubricate the can seamer to ensure that you have the maximum amount of time and performance before adjustments need to be made.
The following link is a short video that shows you how to make adjustments and maintain your Model 25D Dixie Double Seamer: www.youtube.com/watch?v=T63AgWRHtns.
The following link is a short video that shows you how to make adjustments and maintain your Air-Lift and Vacuum Model Dixie Double Seamers: https://www.youtube.com/watch?v=hXmIQXxDYag
4. Not being able to spot a seam deformity. Each day before you begin to package a product, you should double seam an empty can and lid. Once the can is seamed, measure the can seam width and height to confirm that you are within seam specifications. This process should be performed according to your companies established Quality Control (QC) procedures and should be based on the volume of cans that you close per shift, or when changing from one can size to another. Also, inspect the seam to make sure it is smooth and uniform. Visible seam defects can mean the seamer needs to be adjusted.
The best resource to identify seam deformity and learn how to adjust it correctly can be found here: www.doubleseam.com.
5. Thinking that all cans are the same. Every can manufacturer produces several of the same size cans. The cans and lids are manufactured in different facilities with different seam specifications. The tooling required to close a Ball Corp.12 oz beverage can with 202 LOE lid is different from the tooling required to close a Crown Cork and Seal 12 oz can and lid. This is true of all can manufacturers. You have to be very careful when sourcing cans and lids from distributors/resellers. Always demand Manufacturer's Can Seam Specifications before you make a purchase. This is one of the biggest challenges in sourcing cans for packaging purposes.
We have compiled a short list of recommended can suppliers to help you find the perfect can. This list is by no means a complete resource of can manufacturers and resellers but will help you in your search and is a great resource. To view the list, please click here.
6. Not knowing the packaging process. Taking a little time to understand the can packaging process will save you a ton of time and money. Being certain that your employees are adequately trained to operate and maintain your machinery as well as inspect can seams will ensure that you are hermetically seaming your product in the perfect package, that is, the can. For help and support regarding a Dixie Double Seamer, you may contact us on 706-549-1914, from 8 am to 6 pm, Monday through Thursday. It is helpful if you have an iPhone available as we can assist you through a FaceTime call.
We also offer several videos that show you how to adjust and maintain your seamer. You can visit our website by clicking here or access our YouTube Channel by clicking here.
We have been a leading canning equipment manufacturer for over 120 years, with everything Made in the USA in Athens, GA. We provide seamers, retorts, food processing, and specialty canning equipment to the food and beverage, industrial, pharmaceutical, ingredients, gourmet and specialty products industries. We also offer customized change parts, accessories, and tools to use with our Dixie Canner seamers.