We're Celebrating Our 128th Birthday!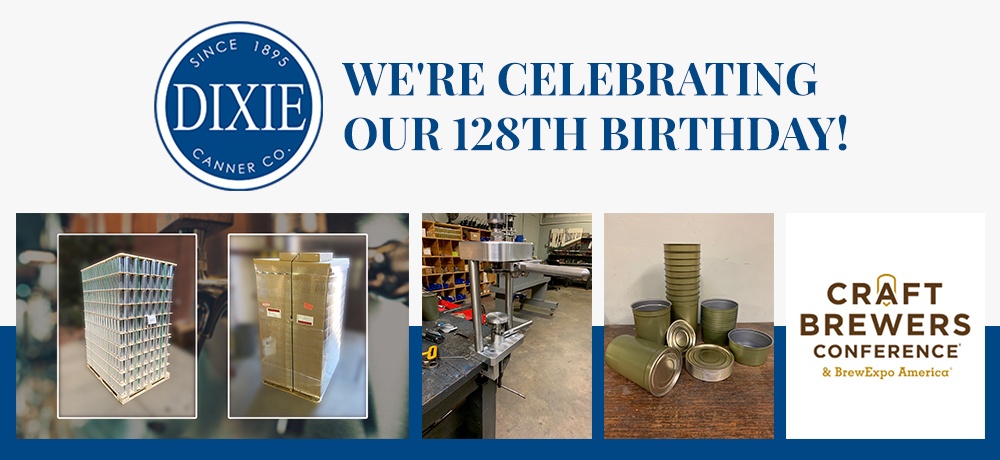 Dixie Canner Company just celebrated our 128th Birthday! Initially, Dixie Canner manufactured home can seamers for cans with lids. At the time cans were a very new package and not widely available. Dixie Canner would load rail cars with cans and seamers for delivery to local hardware and supply stores throughout the south and eventually the world! As time passed, food processing, can packaging, and how we procure and consume food have changed tremendously.
We live in a time where transportation and refrigeration give us access to a wide range of fruits and vegetables all year round. Most people live within a short distance of a grocery store. The flip side of availability is that fresh fruits and vegetables have traveled long distances, increasing the time from harvesting to consumption and a loss of nutritional value, taste, and quality of products. Increasingly consumers are looking for locally grown and sourced products. Flavor and nutrition trump convenience every day.
Farmers' markets and a wide variety of organic fruits and vegetables are available but can be pricey. Consumers are concerned with the nutritional, taste, and environmental impact of their food choices. This has led to increased interest in home gardening, which has led to a renewed interest in home canning.
In honor of our humble beginnings pioneering the home canning concept, we have been working hard developing a new home can seamer. The concept is simple. We will offer an inexpensive home can seamer, cans and lids, and additional home canning supplies and equipment. We will offer online shopping for quick and easy purchases.
We will work with our Cooperative Extension Service to provide safe processing guidelines, recipes, and more. All backed by Dixie Canner's 128 years of can seamer manufacturing experience, knowledge, and world-class customer service. We are in the testing phase of development. There are several more wrinkles to iron out, but we are shooting for a Spring of 2024 launch.
One of the most significant advantages is that cans are nestable. Think Dixie Cups®. You will be able to purchase cans in small quantities. We will offer sanitary or EZO style lids. Next-day shipping in most cases. Look for new and exciting information about the home canning concept in each of our blogs and newsletters.
Can Benefits:
Nestable cans and lids save space, and recyclable.
Strong, stackable, do not crack or shatter.
The two most critical factors in food preservation are to protect sterilized food from oxygen and light, cans have a hermetic seal and are opaque to protect from light.
Single use packaging, no need to clean and store glass jars and metal ring tops.
Crowler cans available by the pallet!
Visit our online store to purchase parts, cans, lids, tools and more!
The 2023 Craft Brewers Conference in Nashville, TN is just around the corner. Make plans to attend the show May 8-10, we will be exhibiting in Booth Number 2615. We invite you to enjoy a FREE One Day admission to the Craft Brewers Conference. Only the first 12 people that use the link will be admitted to the show. The link is also time sensitive. All free passes must be registered by April 19th.
Link to the FREE One Day pass: https://www.craftbrewersconference.com/1-day-visitor-pass-redemption

Visitor Pass Code: CBC23NASH1180